Join us on Saturday 28 July 2018 for the Skin Cancer Institute's first fundraising 'White Out Skin Cancer' Gala Dinner. Enjoy a delicious three-course meal with fabulous wines, a silent auction, wine wall raffle, fantastic prizes, dancing and great entertainment in the company of the Summit presenters, your colleagues, old and new friends while raising funds to support skin cancer research. Browse the auction prizes showcased below and pledge your support towards a world where nobody dies from skin cancer.



We are pleased to announce that our 2018 Fundraising Gala Dinner's beneficiary is QIMR Berghofer Medical Research Institute. QIMR Berghofer is recognised as a world leader in research into the causes, prevention, early diagnosis and treatment of melanoma and common skin cancers. We are excited to support the important work they are doing in this area. Learn more

---
JOIN US FOR THE CLOSING GALA DINNER
Heads and Tails prize
$500 flight voucher to Sydney and a 2 night stay in a Superior Kin Darling Harbour View Room at the Sofitel Sydney with Club Millesime Access for 2 guests

Enjoy a fabulous stay in the vibrant Darling Harbour precinct, facing the city's centre. Step into a world of sophistication blending French Art de Vivre and local culture. Enjoy a breathtaking view on the Harbour and skyline, laze the day away by the infinity pool or indulge yourself at the Champagne Bar. Make your stay magnifique in Sydney!

GENEROUSLY PROVIDED BY
Wine Wall raffle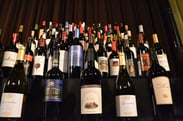 Containing 100 bottles of the finest Australian wines, the Wine Wall offers an opportunity for you to take home a beautiful bottle of your favourite wine while supporting a good cause. At only $20 to play, you are guaranteed to pick up a fantastic bottle of white or red - while a lucky few will have the chance to take home a very special bottle!
---

Entertainment provided by Baker Boys Band
---

About QIMR Berghofer
Scientists and doctors at QIMR Berghofer are finding new ways to combat melanoma, with world-leading research targeting the three key control strategies of prevention, diagnosis and treatment.
QIMR Berghofer is a true world-leader in skin cancer prevention. It has been studying melanoma and its causes for over 40 years, and its research findings contributed directly to the 'Slip Slop Slap' campaign.
Noteworthy work by QIMR Berghofer:
Professor David Whiteman, Senior Scientist and QIMR Berghofer's Deputy Director, specialises in the prevention of melanoma. Professor Whiteman leads the QSkin Study, the world's largest study of skin cancer with almost 44,000 participants, aged in their forties to seventies.
Using this data, Professor Whiteman developed an online Melanoma Risk Predictor, a simple way to predict the risk of anyone developing melanoma over the next 3.5 years. His research found that people's actual risk of melanoma was quite different to their own assessment, highlighting the importance of getting personalised advice on your likelihood of developing a melanoma.
The QIMR Berghofer team will now trial the online melanoma risk predictor among skin cancer doctors and their patients to test how it performs in GP clinics.
Looking back over the decades, it is deeply gratifying to be reminded just how far we have come and to know that QIMR Berghofer has been at the forefront of global skin cancer research efforts for decades. Commencing with Professor Adele Green's pioneering investigations into the causes of melanoma in the 1980s and the seminal genetic research of Professors Nick Hayward and Nick Martin, the QIMR Berghofer scientists have become world leaders in understanding the complex pathways through which melanomas arise.
More recently, Professor Mark Smyth and his colleagues like Dr Tobias Bald are internationally acclaimed for their work in unlocking the body's immune system to recognise and kill melanoma cells.
Melanoma is one of the few cancers that has seen early, breakthrough success with a positive response to immunotherapy treatment. Ten years ago, there was no therapeutic options for metastatic melanoma patients, and chemotherapy resistance was (and still is today) a serious issue for advanced stage patients.
The first patient immunotherapy trials of melanoma started in 2010 in Australia, a world-first, and since then researchers like Dr Bald have seen significant improvement in five-year survival rate for patients with melanoma. Many of the patients from the 2010 trial are alive today. The treatment has not only prolonged survival for many, it has even shown 'complete responses' in some patients, meaning the tumour is not detected anymore. Long term studies will tell, if these patients have been cured by immunotherapy.
"This is the biggest step forward we've ever had with treating advanced melanoma patients. Despite, this success, many patients do not respond to immunotherapy," Dr Tobias said. "We at QIMR Berghofer together with national and international teams are working hard to develop novel therapies to further increase the benefit for patients. In the next 5-10 years we expect to see more complete responses to this treatment."