The 2018 Skin Cancer Summit and Masterclasses is run over a four-day period, commencing with two days of masterclasses (Wednesday - Thursday), followed by the two-day Summit (Friday - Saturday). The program is complemented with various social activities, guaranteeing learning, networking and entertainment throughout the four days. The masterclasses will delve deeply into a particular skin cancer area and enable you to interact closely with the summit keynote speakers in a smaller group format. Please note, places are limited to guarantee maximum interaction with the presenters.
Accreditation (expected based on 2017)
Dermoscopy Masterclass: RACGP 12 Cat. 2 QI&CPD points / ACRRM 6 Core PDP points + 1 day procedural grant eligibility in Surgery
Surgery Masterclass: RACGP 40 Cat. 1 QI&CPD points / ACRRM 30 PRPD points + MOPS 30 + 1 day procedural grant eligibility in Surgery
Two-Day Summit: RACGP 26 Cat. 2 QI&CPD points / ACRRM 13 PDP points

+ 1 day procedural grant eligibility in Surgery

Dermoscopy Masterclass Recording 2017: RACGP 12 Cat. 2 QI&CPD points / ACRRM 6 Core PDP points
*The Early Bird registration will close on 28 June 2018. HealthCert Alumni and GP Registrars save up to $500 on the Skin Cancer Summit and Masterclasses; please contact us to receive the special code.

BREAKFAST PRESENTATION: Aesthetic Medicine, a rewarding adjunct to Skin Cancer Medicine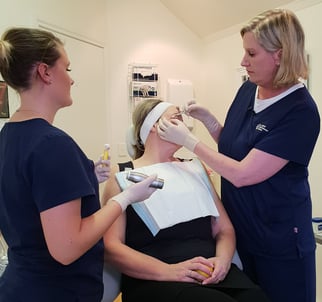 Join us for a free breakfast prior to the first Summit session on Saturday and learn how to integrate aesthetic medicine into your practice as a rewarding adjunct to skin cancer medicine. There are many parallels between skin cancer medicine and aesthetics – learn why the fields complement one another, how you can get started, and the regulations and requirements that need to be met when practising in these areas.
Led by an experienced team of Aesthetic Medicine Doctors Dianne King, Jenny Kimmins and Isabelle Jonsson-Lear, the presentation will cover the fundamental equipment and products you need, including the integral services you should offer as part of a skin cancer and aesthetics practice. You will also learn about marketing and promoting your services, and the best way to manage your staff and resources. There will be time for Q&A with the presenters at the end.
When: Day 2 of the Summit, Saturday, 28 July, from 7:00am to 8:15am
Register your attendance: Please email info@healthcert.com
---
DERMOSCOPY MASTERCLASS RECORDING 2017
Due to high demand during the 2017 Summit, the Dermoscopy Masterclass is now available online.
If you missed the unique Dermoscopy Masterclass taught by Professors Harald Kittler, Iris Zalaudek and Cliff Rosendahl during the 2017 Skin Cancer Summit, don't miss the opportunity to purchase a recording now. The learning outcomes
will change the way you work forever to the benefit of your job satisfaction and the well-being of your patients.
MASTERCLASSES: 25-26 JULY 2018
The masterclasses will delve deeply into a particular skin cancer area and enable you to interact closely with many of the conference presenters in a smaller group format. Both masterclasses cover a range of topics and are focused on improving your clinical practice skills.
NOTE: Masterclasses must be booked in conjunction with the Summit. They are meant to be a precursor to the main Summit and cannot be purchased individually.
SUMMIT: 27-28 JULY 2018
The two-day Summit will surely engage and enlighten you. The program covers all key areas in the field of skin cancer and is focused on helping you to incorporate the information into your own practice. The sessions are designed to be highly interactive with expert panels, debates between speakers, and moderated questions from the floor.
HealthCert alumni and doctors in training / GP registrars save $200 on the Summit price and $150 on each masterclass. Please get in touch to receive the special discount code.
---
YOUR DEFINITIVE GUIDE TO DERMOSCOPY
BY KEYNOTE SPEAKERS AIMILIOS LALLAS, ASH MARGHOOB & 12 MORE EXPERTS
AVAILABLE AT THE HEALTHCERT BOOKSHOP DURING SUMMIT
Get your copy of The Definitive Guide to Dermoscopy and Diagnosis of Benign and Malignant Skin Lesions, developed in collaboration with the International Dermoscopy Society (IDS) and based on the popular online Professional Diploma of Dermoscopy.

Featuring almost 600 pages with real patient case studies, thousands of illustrations and practical advice on skin cancer diagnosis and treatment, this book is a true "Dermoscopy Bible" written by 14 of the most influential experts and global pioneers in Dermoscopy, including Ash Marghoob, Aimilios Lallas, Giuseppe Argenziano, Harald Kittler, Iris Zalaudek, and more.

Visit the HealthCert book shop during the Summit to browse the book or click on the link below for a sneak peek of the first chapter.
---